I went to Hobby Lobby yesterday, hoping to take advantage of the 80% off Thanksgiving and Fall decor sale they have right now.  I was super bummed to see that the one shelf that housed these items hardly had anything left!  Oh well, late to the party, I suppose.
I decided to head home (empty handed, yes…empty handed from a craft store trip….shocking, right?!) and looked through my crafting supplies.  There had to be a way to make some kind of table runner without my sewing machine (it's still getting fixed).
I gathered the following supplies, plus my trusty glue gun, and got to work.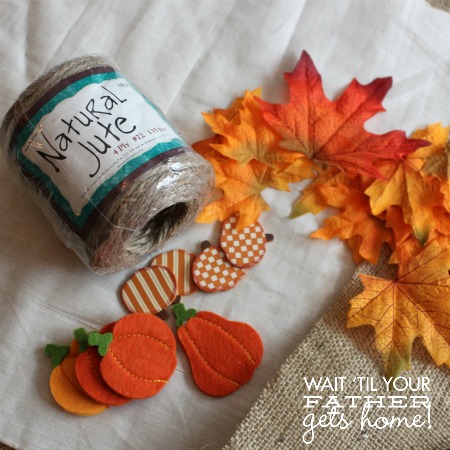 I don't have exact measurements for the burlap and linen material I used as a liner.  I simply cut them until I felt they fit right with my table size!  I like to make table runners that don't hang over the edges as a certain 16 month old would immediately try to pull it down.  All of the other supplies were leftover from my Fall Mantel and my Ruffled Burlap Wreath, both of which are still on display (until this weekend when I plan to start decorating for Christmas)!
I used a few dabs of hot glue on the corners and sides of the linen fabric to line the back of the burlap.  I figured that would eliminate some of the mess that comes with burlap and create a smoother surface on the bottom side.  The linen didn't go all the way to the edges of the burlap as I wanted to pull a few strands off from each side to make the burlap fray.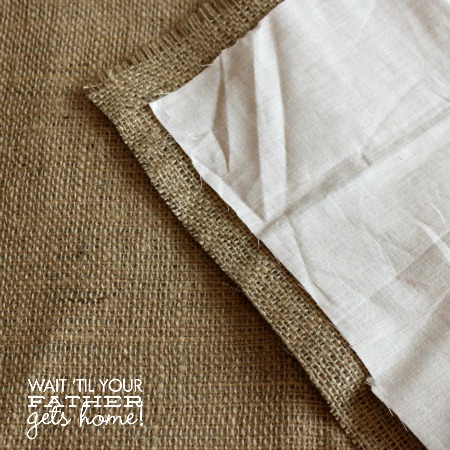 Once the linen fabric was secured, I pulled a few strands of the burlap off of each side to create a frayed look.  I then added some Fall leaves and cute felt pumpkins (both originally found at Hobby Lobby) in two of the corners to give the table runner some color.  I used my hot glue gun to attach everything!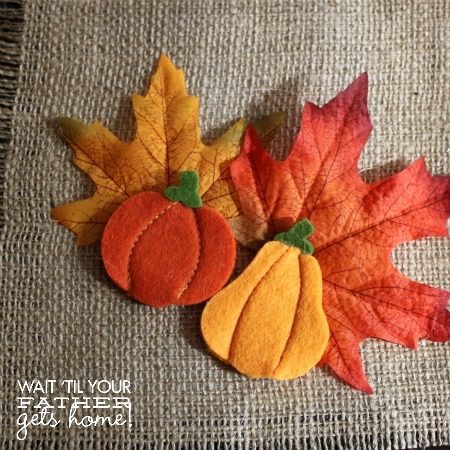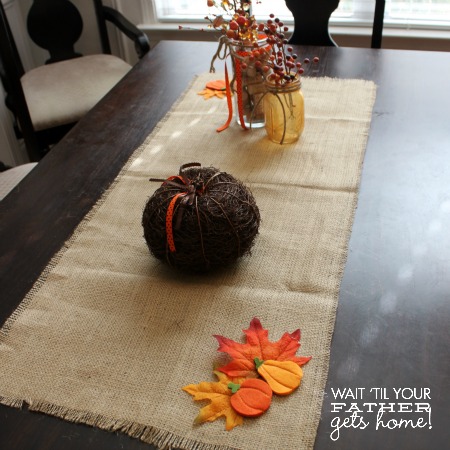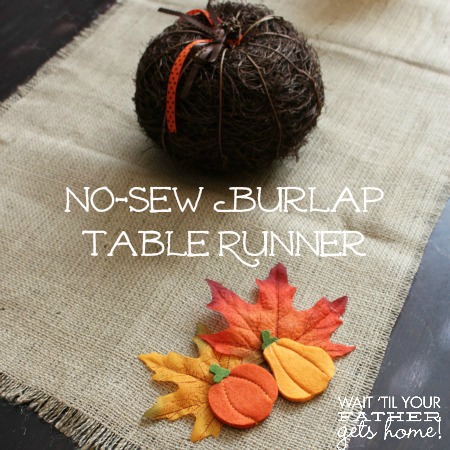 This is one of the easiest projects I've ever made!  The whole table runner took maybe 10 minutes after my glue gun heated up!  I love the simplicity of it and know it will be the perfect addition to our table at Thanksgiving dinner this Thursday!
Have a Happy & Blessed Thanksgiving tomorrow!  If you are looking to link up to Keep Calm & Link Up tomorrow evening, we will be partying, just a bit later than usual.  Stop by at 9 PM EST to link up this week!
I'll be linking up at these fantastic parties.