Hi there!  I'm Meredith, the proud blogger behind Wait 'Til Your Father Gets Home.  I'm thrilled that you're here!  I'm a mid-western girl at heart, but currently live in Georgia with my little family of four.
 I'm a brand new stay at home mom to my adorable baby boy, Jackson and wife to my former military (here's a hint-Semper Fi), all American husband, Shane.  My son is already very patriotic as well since he was born just shy of our nation's independence day on July 3, 2011!  Needless to say, we're a red, white, and blue kinda bunch.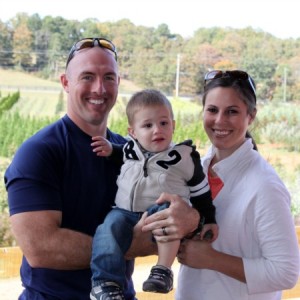 Wait 'Til Your Father Gets Home was started in March 2012 as  a way to share some of things that I do each day.  I've come to truly love the community of bloggers and readers that I've gained in just a short amount of time, and they all keep me motivated to continue to create.
Now, why Wait 'Til Your Father Gets Home you ask?  Well, that's how Jackson, Henry, and I feel everyday!  We can't wait until daddy gets home to hang out with us (and I imagine that I might, on some occasions, when my little guys are much, much older utter that phrase a time or two in a different context and tone).  We'll just have to wait and see…
I'm so glad you're here!  I encourage you to take a look around and enjoy!  Please don't hesitate to send me an email or leave a comment!  I LOVE to hear from my readers!

Meredith is a stay at home mom and has been blogging since 2012. She started Wait 'Til Your Father Gets Home as a creative outlet in between nap times for her little one. Wait 'Til Your Father gets home is a combination of crafting tutorials, DIY projects, recipes and, sharing some of life's journey along the way.