I'm a big fan of a cute table runner, but definitely not paying the price for one.  While shopping a few weeks ago, I stumbled across some super cute Halloween-ish fabrics for 40% off at Jo Ann's and knew they would be the perfect pieces for a cute table runner I had in mind.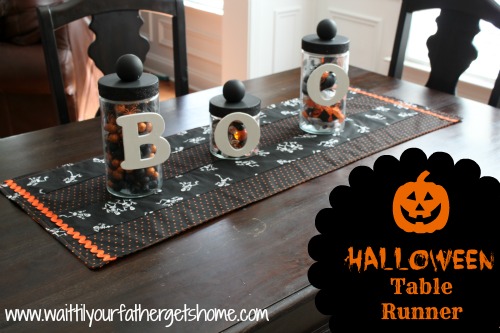 To make a Halloween Table Runner, you'll need: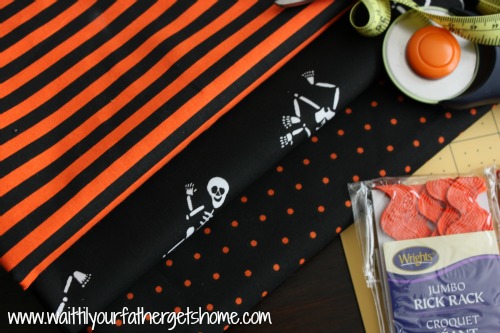 three different Halloween fabrics (two for the front and one for the back) 1/2 yard of each
jumbo orange rick rack
orange thread
rotary cutter and cutting mat
iron
measuring tape
sewing machine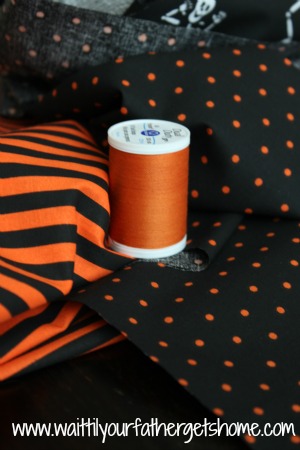 You'll find that  a lot of table runners hang over the ends of each side of the table.  I've got a 15 month old, so that wasn't an option for me.  I had visions of everything on top of the table runner crashing down on his little stubborn, oh so cute head, so I knew I wanted to stick to a size that fit in the middle of the table instead.
To get started, I ironed all three of my fabrics very well, after all, it's always easier to work with nice, flat fabrics when cutting and sewing!
I then measured and cut the four strips for the top of the table runner.  Each strip measured about 4 1/2 x 41 inches.  I also measured and cut the fabric that would go on the back of the table runner to be about 16 x 41 inches.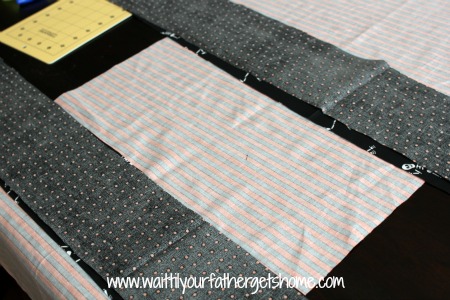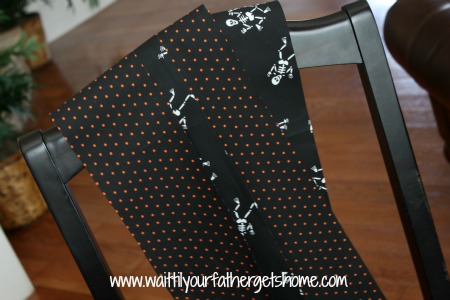 To assemble the top of the table runner, pin two different fabric strips together, right sides facing each other and sew straight down the longest side.  Once sewn, repeat with the two remaining strips.
Finally, sew all four strips together, making sure that each fabric strip alternates.  As you can see, mine alternates between a skeleton fabric and an orange and black polka dot.  Iron this piece well, making sure that all folds are ironed in the same direction on the back side of the fabric.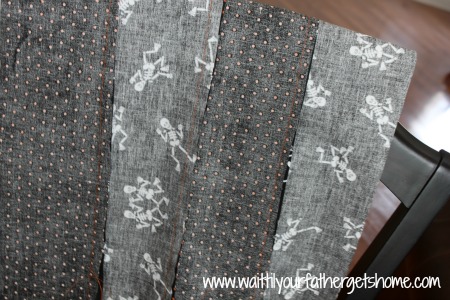 Since I wanted to add some orange ric rac to the ends of the table runner, I pinned it in place and sewed it on before assembling the entire table runner.  This step was super easy, I just used the ric rac as a measurement and cut it where it met the ends of the fabric.  I sewed a straight line through the center of the ric rac and it stayed in place perfectly.
Now, to assemble the entire table runner, pin the fabric strip side to the solid piece that will serve as the back of the table runner, right sides together.  Sew 1/4 inch seam around the entire table runner and leave a 4 inch opening to turn it right side out.  Before turning, make sure to cut each corner at an angle so it doesn't look all wonky!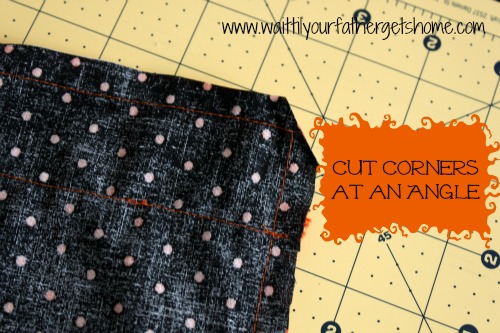 Use a pencil or pen to poke the corners as far in as they'll go, and run your iron over it one last time before closing that 4 inch hole and sewing a topstich around the entire table runner, using your presser foot as a guide.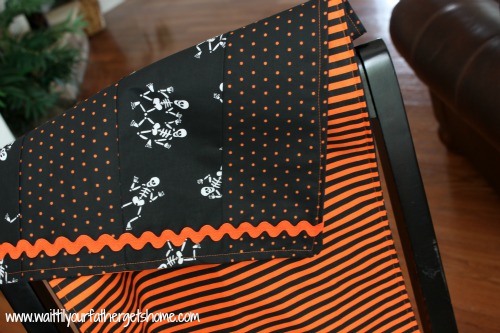 Now, put your table runner on display with some of your favorite Halloween Decor or maybe even a big bowl of Halloween candy!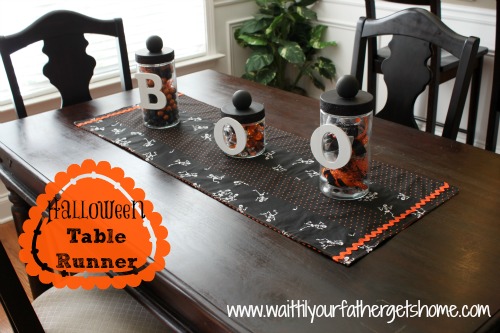 I'll be linking up at these fantastic parties this week!