This year, Jackson and I decided to make some fingerprint charm necklaces for his grandmothers on Mother's Day.  I was inspired by this idea that I found on Pinterest (where else)?!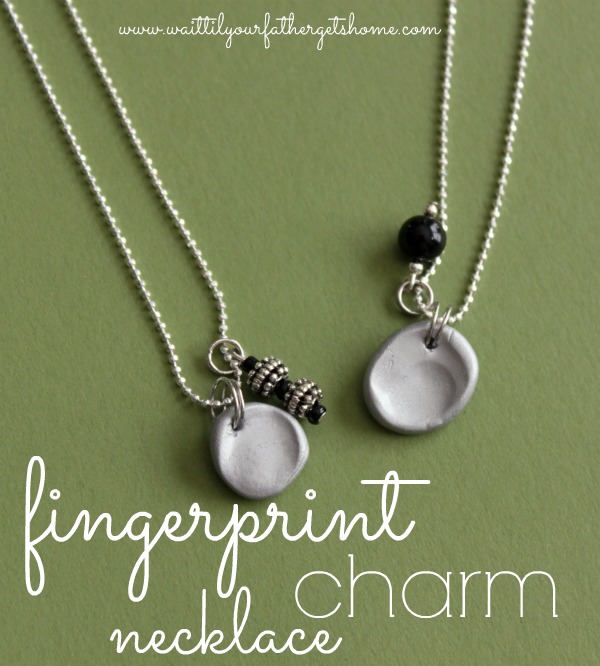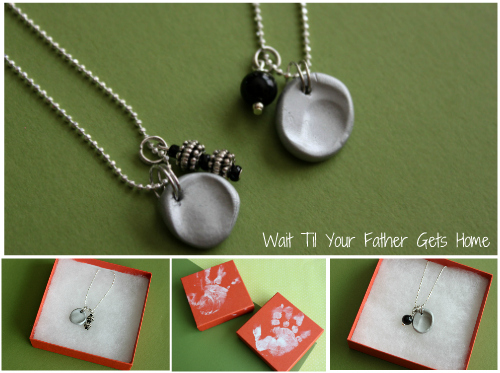 Today I'll be sharing how to make a Fingerprint Charm Necklace.
To make the necklace, you'll need: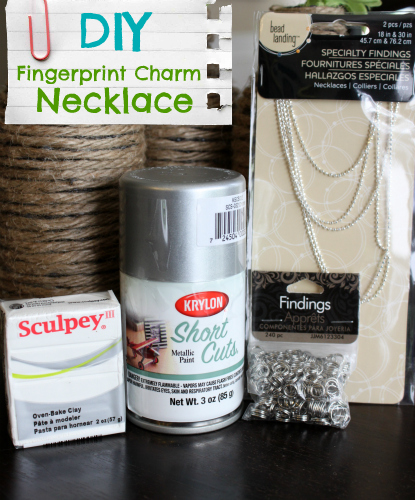 oven bake clay ($2.49 @ Michael's)
metallic spray paint ($3.29 @ Michael's)
polyurethane spray (already owned)
jump ring ($2.00 @ Walmart)
necklace ($3.99 @ Michael's)
decorative beads ($.40 @ Hobby Lobby on Clearance)
paperclip or needle (who doesn't already own a paperclip or needle?!)
Total for project (after 20% off total purchase Michael's coupon) about $10 for two necklaces!
To get started, break off a small amount of clay and roll it into a tiny ball.  I made a few, so I could pick and choose my favorite two in the end.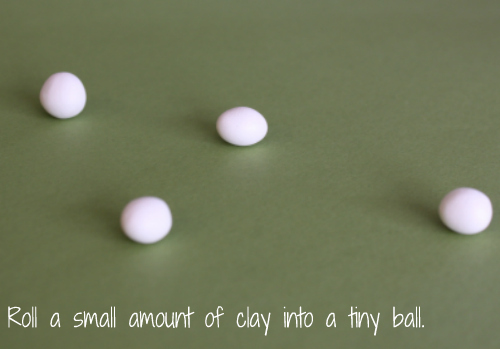 Make sure each ball is smooth and doesn't have any cracks in it!
Next, press your child's fingerprint into the clay ball.  The ball will flatten as you press his finger into the clay.  And (hopefully) his little fingerprint will appear…
At this point in the process, I actually asked my husband if babies had fingerprints.  Yes, really, I did.  I could hardly see my little guy's prints in the clay.  He assured me that babies did have fingerprints, but they are just very fine still, making them somewhat difficult to see.  After a few attempts I finally got a couple of charms that I was satisfied with using.  I also thought it was very cool that because I was pressing his finger into the clay so firmly, my prints showed up on the back side of the charm.  This made me even more excited to give it to my own mother!  
Once each charm has a print, use a paper clip or needle to poke a hole at the top of the charm for the jump ring.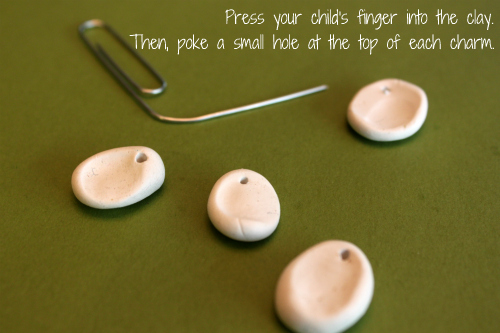 Place the charms on a cookie sheet and bake 'em at 275 for 15 minutes.  Make sure to check the packaging of the type of clay you choose because baking directions may vary!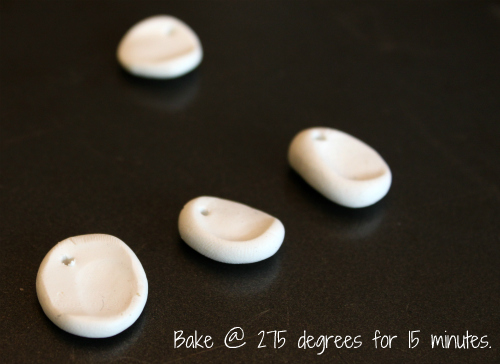 Once the charms have finished "cooking", let them cool for a few minutes.  Give them a few thin, even coats of metallic spray paint on both sides.  Make sure to get the edges of the charm as well!  Once the spray paint is dry, seal each charm with at least two coats of polyurethane spray.  This will seal and protect the paint job and also give the charm a nice shine to it.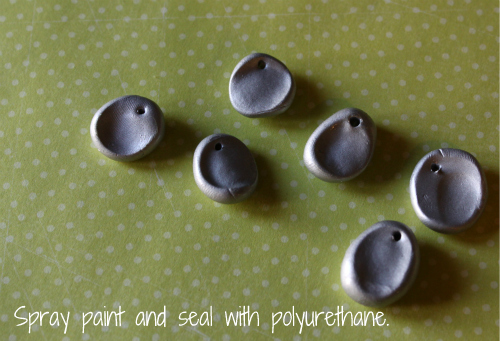 Add a jump ring to each charm and finally attach it to the necklace you've chosen.  To dress each necklace up a bit, I added a small bead to each.  I found some at Hobby Lobby on clearance and ended up getting each package for only $.40!!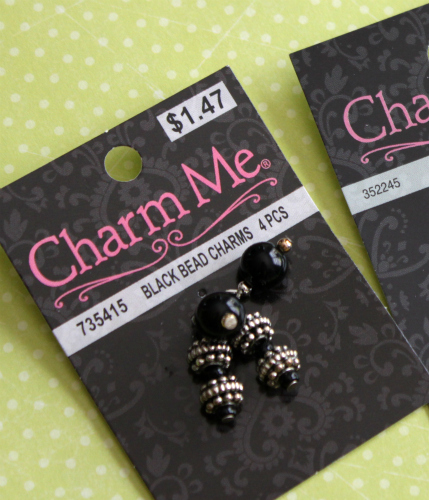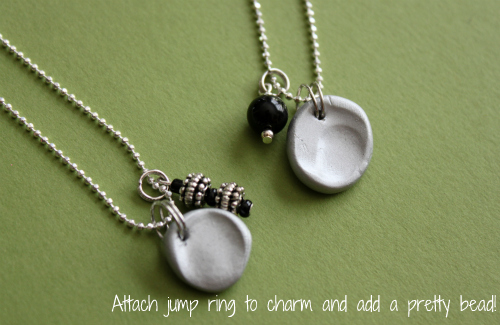 I had these cute gift boxes on hand and dabbed some white paint on little guy's hand (he looked at me like I was nuts) to decorate them for his grandmas.  He wanted to keep with the fingerprint theme and include his whole hand.  What can I say, I've got a very thoughtful ten month old!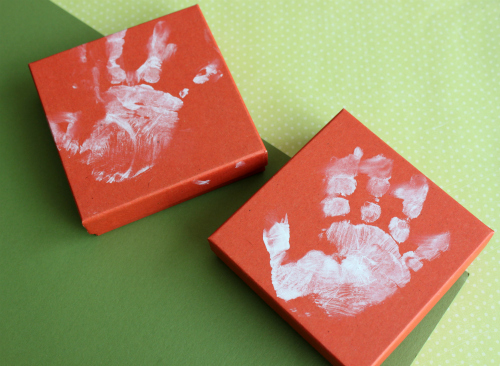 And there you have it!  A simple and sentimental Mother's Day gift that any mom can enjoy all year long!  I liked how these turned out so much that I'm getting another necklace so I can attach one of little guys's fingerprint charms to it for myself.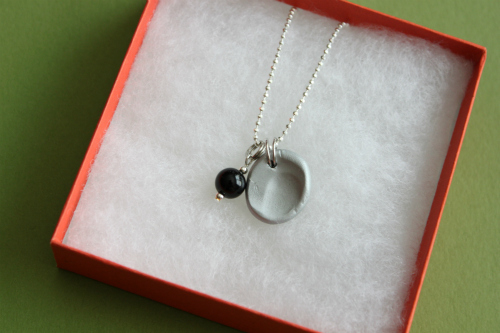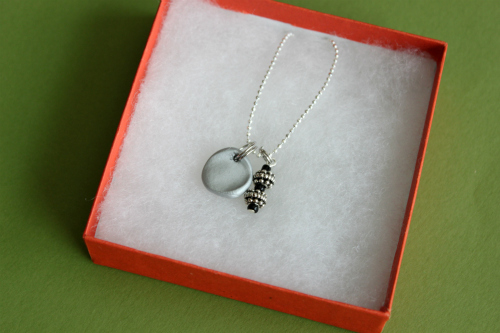 Enjoy!