Have you ever been at a loss for certain people on your Christmas  list?  I know some people can just be very difficult to buy for these days!  I've got a fantastic suggestion for those hard-to-please people on your list this year.  Give the gift of the written word by Alphabet Photography.
I'm sure you've seen the work of Jennifer Blakeley, the founder of Alphabet Photography all over the place.  She has received various awards, and her work has been showcased on such television shows and networks as Good Morning America, The Ryan Seacrest Show, CNN, USA Today, and Inside Edition.
Jennifer spent a large portion of 2006 & 2007 travelling North America with the goal of collecting a complete gallery of photographs that look like letters of the English Alphabet.  All of her photographs are of objects found in their natural surroundings that are un-staged and not found in any pre-existing signage.  In a word, they are all UNIQUE!  And there is a huge variety of every letter to choose from…everyone will find at least a few images that they love!
Ordering is so, extremely simple!  You simply visit the Alphabet Photography website, type in the word you'd like created, and click on each letter to view the gallery of images available per letter!  There are tons of images to choose from; I know you'll find more than one that you absolutely love!
After ordering, your lovely Alphabet Photography will arrive in a long box and wrapped very well in bubble wrap.  (Save this…your children will love playing with it)!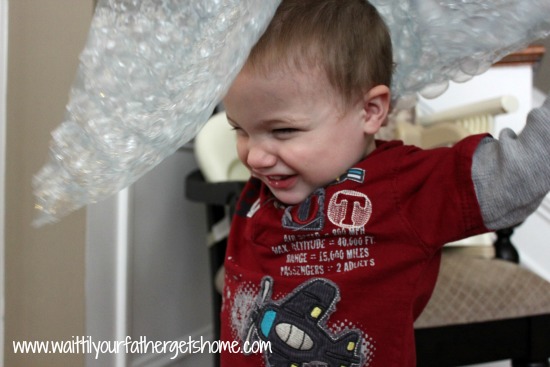 While your little one is busy playing, admire the beautiful packaging.  If you are giving the photo as a gift, you could just gift it directly from the box…I mean, look how beautifully they package it!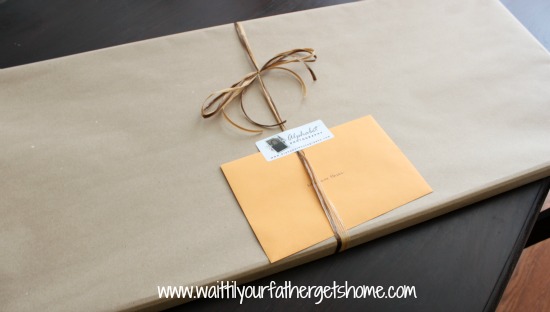 I'm all for the tiny details too…
Since this piece of Alphabet Photography was not a gift, I dove right in to open it up and see our new wall art for the kitchen.  We chose to go with the word America, and I think it turned out just beautiful!  Since it's hanging in our kitchen,  it's definitely a piece that I get to admire every single day!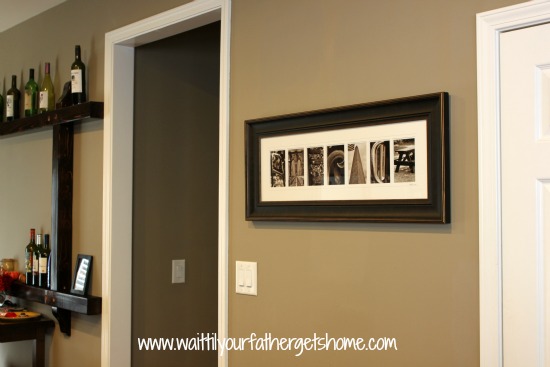 The artwork I received has a 3" solid wood frame with a dark Chocolate finish accented with gold leaf. Contemporary, sophisticated and elegant, it is the perfect addition to a modern or traditional home. The frame is matted with a museum quality double mat with a V groove.
It is even hand signed and dated by the artist!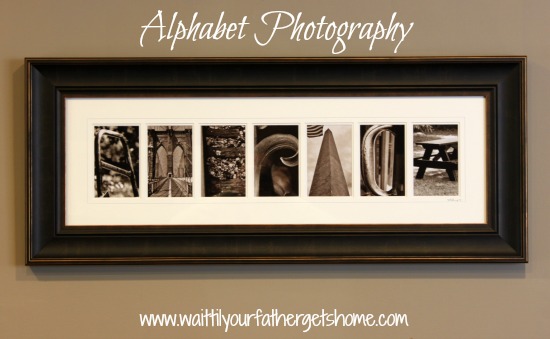 I cannot imagine a single person out there that wouldn't love the gift of Alphabet Photography this holiday season!
To learn more about how Alphabet Photography is created, check out this behind the scenes look into the high quality and special care that goes into making the original photo letter art!
Happy shopping!

The perfect customized gift that includes photographs from all over the world, this is the original Alphabet Photography. Celebrity owners include: Prince Charles, Prince William and Kate, Tyra Banks, Ryan Seacrest, Canadian Prime Minister Stephen Harper, John Schneider, Nelly Furtado, and many more!
This is a sponsored post written by me on behalf of Alphabet Photography. The opinions and text are all mine.
Meredith is a stay at home mom and has been blogging since 2012. She started Wait 'Til Your Father Gets Home as a creative outlet in between nap times for her little one. Wait 'Til Your Father gets home is a combination of crafting tutorials, DIY projects, recipes and, sharing some of life's journey along the way.