I'm so excited to be able to share another great line of products from my friends at Seventh Generation today!
With cold & flu season upon us, it's more important than ever to make sure your family is protected and taking the proper precautions to stay healthy during these months.  Now you don't have to worry that the cleaning products, disinfectants, and personal items you're using to protect your family will possibly do them any harm with harsh and toxic chemicals.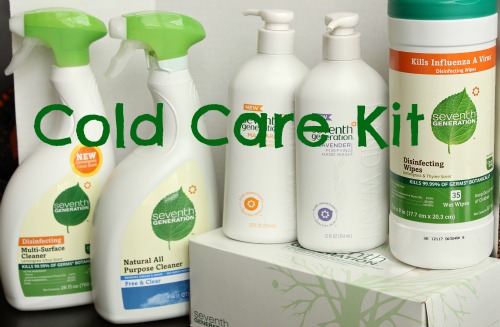 Seventh Generation was kind enough to send me a Cold Care Kit to try out in my own home!   And, let me tell you…their products continue to impress me!
I'm loving their Purifying Hand Washes.  I've got both the Lavender and the Mandarin scents out in my home, and I'm loving how soft they leave my hands, not to mention the yummy scent!
The Purifying Hand Wash is gentle,  and 97% plant-based.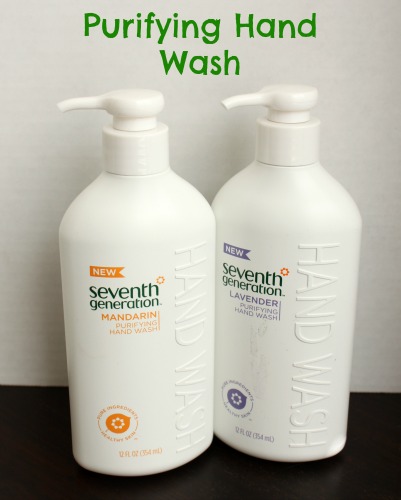 The surface cleaners are fantastic for use in the kitchen or bathroom.  I've consistently used the Multi-Surface Cleaner in my kitchen every single day, probably two-three times a day!  What can I say?  I like some clean counter tops.
The All Purpose Cleaner works wonders on my stove after some heavy cooking.  It cut through grease splatters from cooking bacon, like that!  And the fact that there are no harsh or toxic fumes puts my mind at ease!
The Disinfectant Wipes are perfect for any mom in a hurry!  They kill over 99.99% of household germs, specifically: Influenza A viruses including H1N1, Rhinovirus (type 37, the Common Cold virus), Methicillin Resistant Staphylococcus aureus (MRSA), Staphylococcus aureus, Salmonella enterica, and Pseudomonas aeruginosa on hard, nonporous surfaces.
I don't know about you, but I sure don't want any of those viruses harming my family!
All Purpose Cleaner $3.49 for 32 oz. bottle
Disinfecting Multi Surface Cleaner $3.49 for a 26 oz bottle
Disinfectant Wipes $5.89 for a 70 count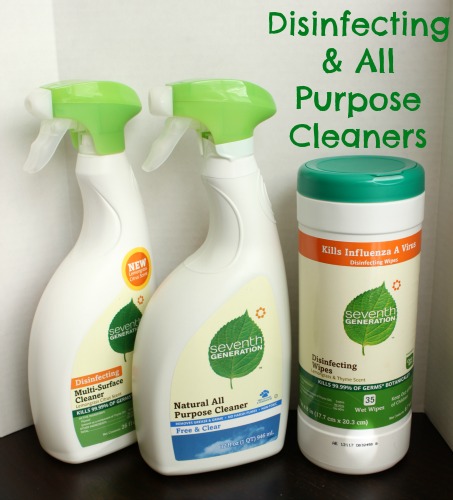 And finally, Seventh Generation sent me some of their awesome tissues.  I've got a box in each bathroom in the house now.  You never know when you're going to need a tissue, especially during cold & flu season!
Their tissues are gentle on noses,  soft, and absorbent.  They are  made from 100% recycled paper, minimum 50% post-consumer content.
Facial Tissues $2.49 for a 175 count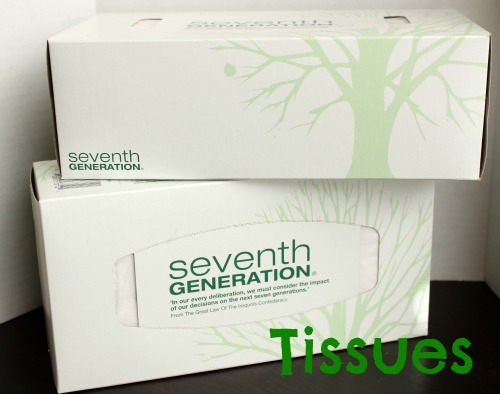 To get you in the mood for Halloween next Wednesday, Seventh Generation has even created a video tutorial for making a Tissue Box Monster!  This would be a fun little project to do with your kiddos (and maybe it would make them want to use a tissue or two more often)!
Wasn't that fun?!
Seventh Generation has also been kind enough to offer one of my readers a Cold Care Kit of their own.  This giveaway is open to U.S. residents only and will end on Sunday, November 4th!  Rafflecopter will walk you through the entry process below…
Want even more chances to win?  I've got a few friends that are holding the same giveaway this weekend!
Bear Rabbit Bear (running until Friday, Nov. 2nd @ midnight)
Seven Alive (running until Friday, Nov. 2nd @ midnight)
Stay healthy this cold & flu season!


I was compensated with free products from Seventh Generation for the purpose of review.  
All opinions are 100% my own, as always!