Hi everyone! I'm Taryn from Design, Dining + Diapers and it is such an honor to be here while Meredith takes some time to enjoy that sweet little baby of hers. I'm due in less than 3 months and I'm getting anxious for some baby snuggles!
So have you started crafting for the 4th of July yet? I can't believe it is just a few weeks away! It seems like it has really snuck up on me this year. This will be the first year that my 2 year old daughter will probably have an idea of what is actually happening and I want her to be able to take part in the festivities. I decided to make some kid friendly Fourth of July Favors Made From Recycled TP Rolls… easy, inexpensive and safe 🙂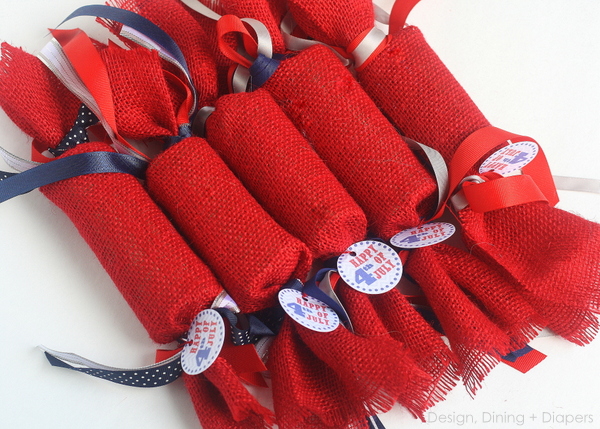 I am all about recycling and using what's around the house and this project fits the bill!
Supplies:
– Red Burlap (about 1/2 yard for 5 favors)
– Red, White and Blue Ribbons
– TP Rolls
– Hot Glue Gun
– Fourth of July Printable (see below)
– Candy For Filler
Start by cutting your burlap into 15″ X 7 " pieces. Then gently pull the strings off either side until the edges are straight, and trim.
Place your TP roll directly in the center.
Start to roll the burlap around the TP roll and place hot glue on the edges to secure it.
Tie one end of favor with ribbon, fill with candy and then tie the other side.
You can download the FREE printable here, and then print it off. I used my Silhouette to cut each tag, but you could easily just use scissors!
Place them in a basket and you are good to go! Your guests (of all ages) will love them.I mean who doesn't like unwrapping a surprise and finding chocolate inside?! 🙂
Thanks so much to Meredith for having me over today, hope everyone has a great week and Happy 4th of July!