Since putting it together two years ago, one of my most pinned posts has been my 28 Easter Basket Ideas for Kids.  With Easter approaching quickly, I thought the Easter Bunny could use some fun ideas to freshen things up a bit.  I'm keeping ours SUPER simple this year and planning on grabbing a new picture book for each kiddo, a small chocolate treat like M&M's, and maybe some new crayons or sidewalk chalk.  I'd love to include a fun handmade item from the list below as well, but I just can't decide which one to make!  Take a peek at all of them and help me choose.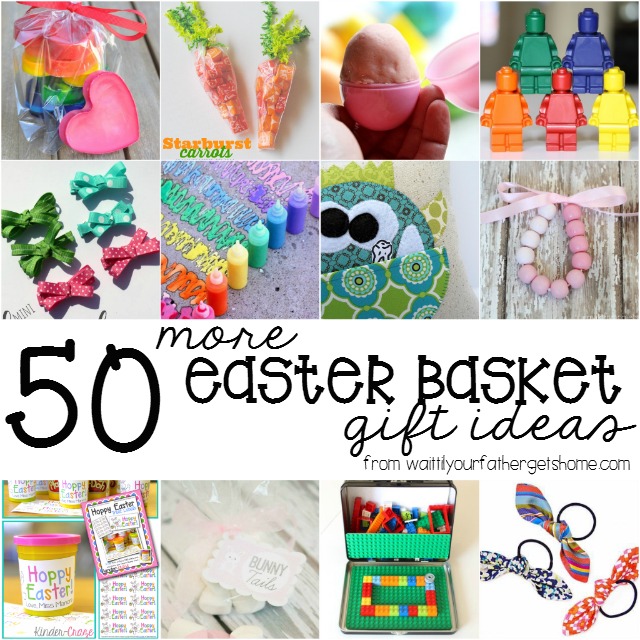 As always, please pin from the original source!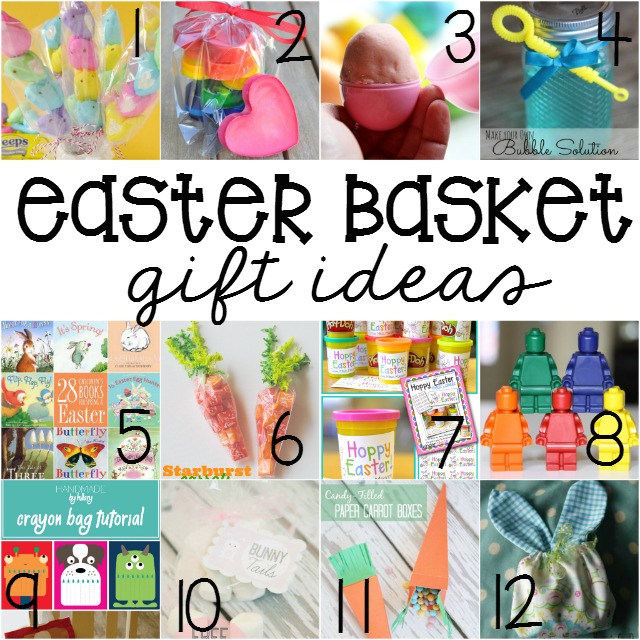 1 Peeps on a Stick | 2 Fast & Easy Homemade Crayons | 3 Kool Aid Playdough
4 Homemade Bubble Solution | 5 28 Children's Books for Spring | 6 Starburst Carrots
7 Easter Labels | 8 Lego Man Crayons | 9 Crayon Bag Tutorial
10 Bunny Tails Printable | 11 Candy Filled Paper Carrots | 12 Bunny Treat Bags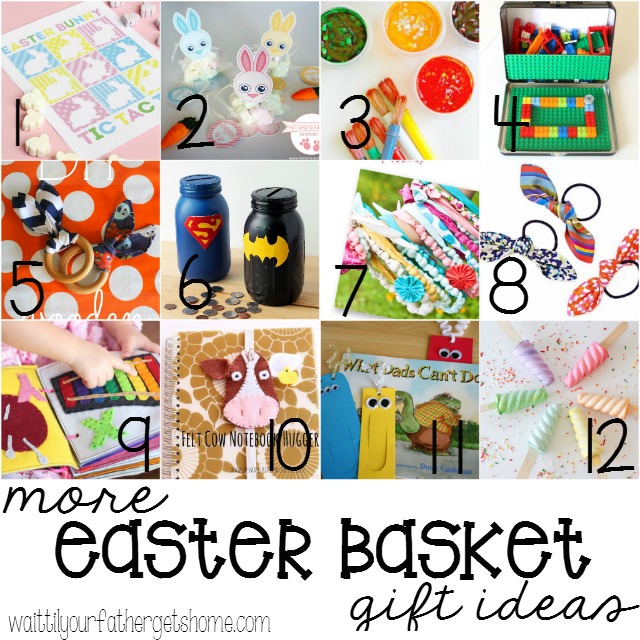 1 Easter Bunny Game | 2 Pet Easter Bunny Printable | 3 Homemade Confetti Paint
4 Portable Lego Kit | 5 DIY Wooden Teething Rings | 6 Mason Jar Superhero Banks
7 DIY Fabric Necklaces | 8 Bow Hair Ties | 9 My Pretty ABCs Felt Book
10 Felt Cow Notebook Hugger | 11 Crafty Monster Bookmarks | 12 Sidewalk Chalk Popsicles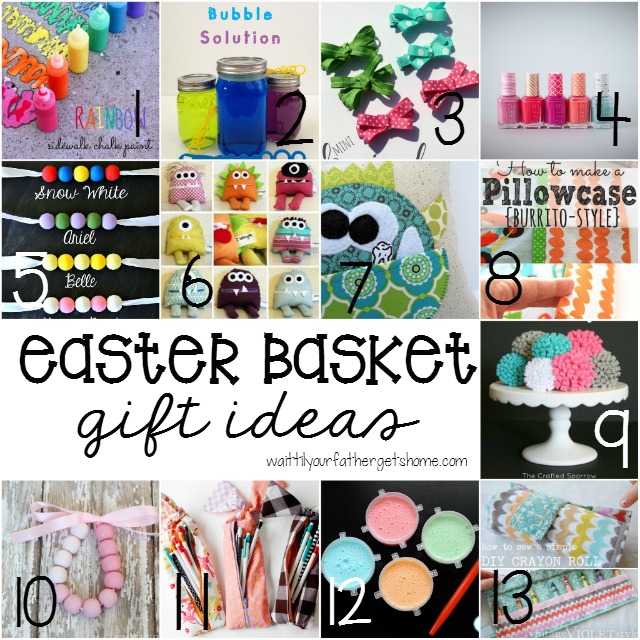 1 Rainbow Sidewalk Chalk Paint | 2 Homemade Bubbles | 3 Mini Hair Bows | 4 Washi Nail Polish
5 Disney Princess Necklaces | 6 Silly Sewn Monsters | 7 Manfred Tooth Pillow
8 Pillowcases | 9 Felt Flower Hair Clips | 10 Pretty Ombre Bracelet
11 Knotted Zipper Pencil Pouch | 12 Bubble Bath Paint | 13 Simple Crayon Roll
Plus even more easy and inexpensive ideas you can pick up at the store…
Board Books
Puzzles
Cars
Bubble Bath
Sidewalk Chalk
Baseball Cards
Flip Flops
Dry Erase Board & Markers
Stickers
Temporary Tattoos
iTunes Gift Cards
Monogrammed Stuffed Animal
Sunglasses
What other items can you think of to add to a fun Easter basket?!