Thanksgiving is one of my most favorite times of the year.  I love getting together with family and friends to celebrate all that we are thankful for, and I especially love to enjoy all of the delicious "Thanksgiving foods" that go along with that celebrating!
This season I'm planning to make several new dishes and of course some old favorites, all using a great Unilever spread, Country Crock.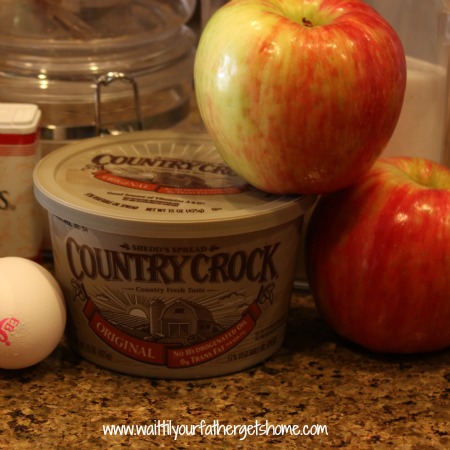 A new dish I'm excited to make this year is
Sweet Potatoes Gratin
Prep Time: 30 minutes    Bake Time: 1 hour 30 minutes
Stand: 15 minutes    Oven: 325 degrees
2 T Country Crock, in small spoonfuls
Nonstick cooking spray
1 1/4 cup whipping cream
1 T Dijon mustard
1 t salt
1/2 t cumin
3 sweet potatoes, peeled and sliced 1/8 in. thick
1 cup grated Parmesan cheese
2 strips bacon, cooked crispy and crumbled (optional, but a good choice)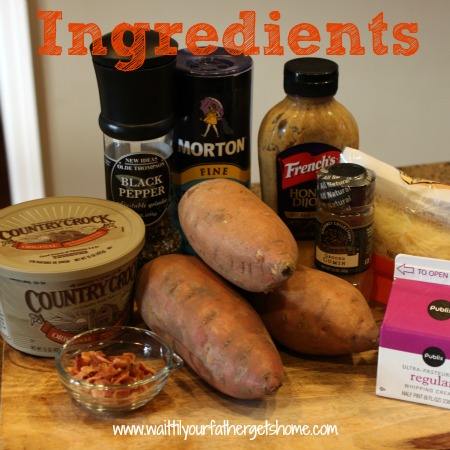 Preheat the oven to 325 degrees and lightly coat a square baking dish with nonstick cooking spray.  In a medium bowl, whisk together the whipping cream, mustard, salt, and cumin.
Peel and slice the sweet potatoes.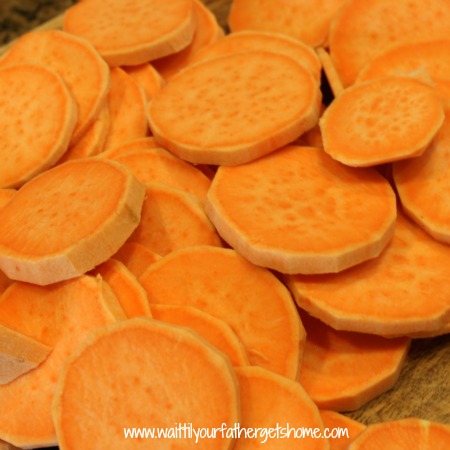 Place the sliced potatoes in a mixing bowl and pour the cream mixture on top.  Stir the potatoes and the mixture to moisten the potatoes.
Arrange half of the potatoes in the prepared baking dish, overlapping slices slightly.  Sprinkle about half of the Parmesan over the potatoes.  Repeat layering the remaining potatoes in the dish, pour the left over cream from the bowl over the potatoes, and top with the remaining cheese.  Dot the top with the 2 tablespoons of Country Crock to give your dish some delicious taste!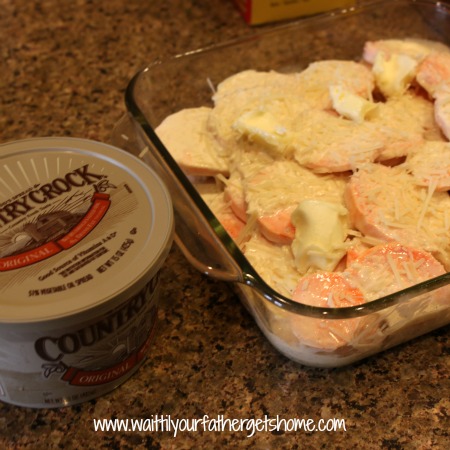 Bake the sweet potatoes, uncovered, for 1 1/2 hours or until the potatoes are very tender and the sauce is noticeably thick and creamy.  Cover loosely with foil if top begins to brown too much!  Remove from oven, top with bacon, and let stand for 15 minutes before serving.  This recipe makes about 8 servings.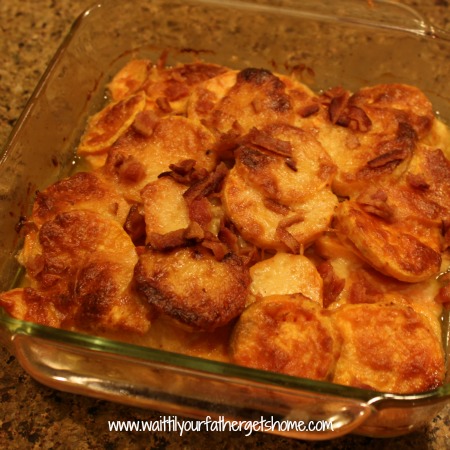 A second recipe I'm excited to make since I make at least one every year is…
Grandma's Apple Pie
Prep Time: 30 minutes    Bake Time: 20 minutes; 25 minutes
Stand: 1 hour    Oven 400 degrees and 350 degrees
3 t Country Crock 
1 15 oz. package rolled, refrigerated pie crust
1/2 cup plus 1 t sugar
1/2 cup packed brown sugar
3 T cornstarch
1/4 t salt
1/2 t ground cinnamon
pinch ground cloves
4 pounds apples (get a variety)
2 t lemon juice
1 egg, beaten w/splash of water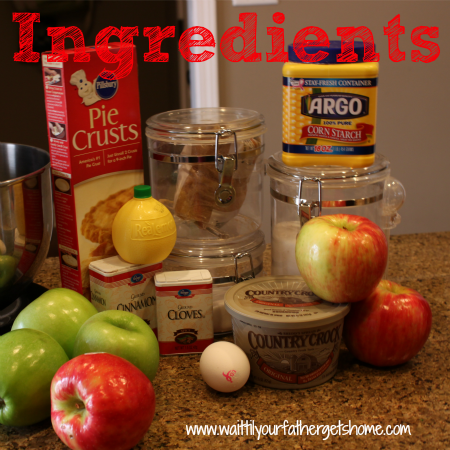 Heat oven to 400 degrees and unroll pie crust onto pie plate.  Prick the bottom with a fork and refrigerate.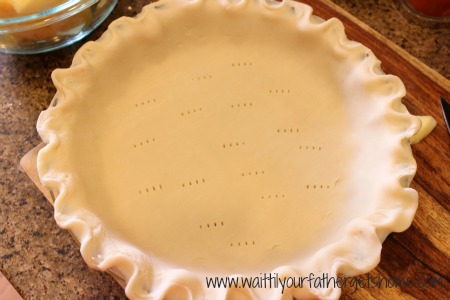 Blend sugar, brown sugar, cornstarch, cinnamon, and cloves in a small bowl.  Peel apples and slice thin.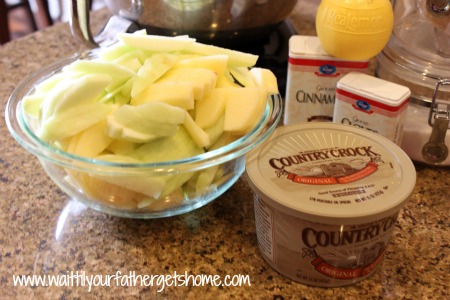 In a deep pan, melt the Country Crock, add apples, lemon juice, and sugar mixture.  Cook for 10 minutes on medium high heat to thicken the mixture on the apples.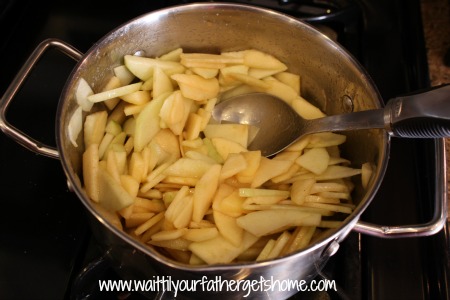 Pour mixture into crust.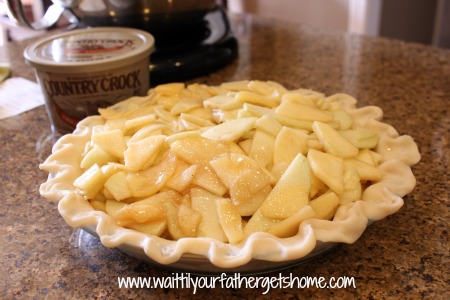 Unroll second crust, crimp edges together, and poke a design in the top (both for looks and to vent the pie while it bakes).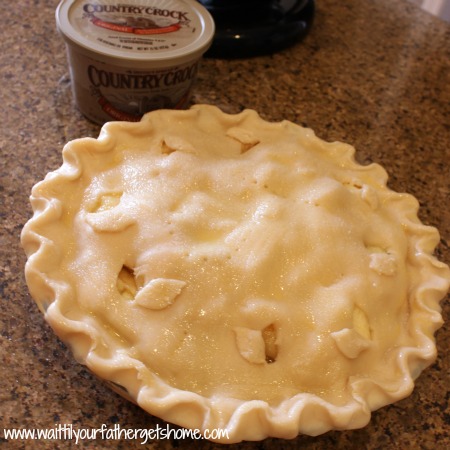 Brush the top of the pie with the egg mixture and sprinkle with the remaining teaspoon of sugar.  Bake at 400 degrees for 20 minutes then at 350 degrees for 25 minutes.  Cover the pie lightly with foil if it begins to brown too quickly!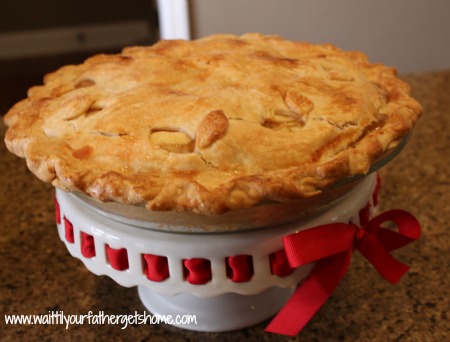 Let the pie stand for at least 1 hour before slicing!
Enjoy!

Thank you to Good to Know & Unilever Spreads for being a sponsor. I was selected for this opportunity as a member of Clever Girls Collective. All opinions expressed here are my own.
Meredith is a stay at home mom and has been blogging since 2012. She started Wait 'Til Your Father Gets Home as a creative outlet in between nap times for her little one. Wait 'Til Your Father gets home is a combination of crafting tutorials, DIY projects, recipes and, sharing some of life's journey along the way.