Remember back in January when I created this winter wreath for my after-Christmas-naked-front-door?
Well, since Spring has most definitely sprung, I decided my Winter wreath needed some perking up to match the bright mood of the marigolds and salvia in the front porch planter.  These are two of my most favorite annuals to plant each summer.  I think the colors look beautiful together!
To begin perking up my wreath, I headed to JoAnn's, with their mobile app loaded with a 10% off total purchase coupon!  If you haven't downloaded their free app, you must!  How awesome is it that you don't have to waste time (and paper) printing out a coupon?!  You simply load the coupons that are applicable to your purchase and hand over your phone to the cashier…easy peasy!
At JoAnn's I purchased:
4 wooden numbers @ $1.99 ea
a few new flower stems that totaled $14.19 on sale
After my 10% off coupon, my total purchase was $22.15
I decided to use the same wreath as the base once again.  I simply took off the letter H and the Winter flower stems and put them in a storage bin to pull out again next year.  Ta-da!  Instant blank canvas!
Before getting to work arranging my flowers, I took the wooden letters outside for a coat of Krylon Indoor/Outdoor spray paint in Georgia Clay and immediately fell in love with the color!
While the numbers did their thang outside (you know, drying in the hot Georgia sun), I began arranging the new flower stems in the grapevine wreath. Once I had things where I wanted them, I flipped the wreath over and secured the loose stems with some brown fabric covered floral wire (that I already had from the first time around).
After about 20 minutes, I had this beauty…
Yes, I realize my house number is on the wreath, but you don't know the street, so it's okay (I think)!  Here's another shot…
I just love how it turned out!  It screams Spring to me.
I'm linking up here today…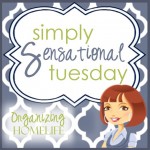 Have you done anything to brighten up your front door for Spring?  What are your go-to annuals to plant each summer?
Please leave a comment.  I LOVE to hear from my readers!