I don't know about you, but if you were to open my dresser drawers this is what you'd typically find…
and this…
and this…
It's a disaster!  Hubby and I share a dresser in our bedroom; we both have three drawers each for clothes.  Since he doesn't like me to even do his laundry (a blessing, I know), I just stuck to my side of the dresser for my reorganization efforts.  I have a drawer for t-shirts, a drawer for pajamas, and a drawer for lounge pants and shorts (think black yoga pants and comfy cotton shorts).
A few times a year I'm really good at taking everything out and putting it all back in neatly.  I used to just fold and pile on top of everything, until I thought about it for awhile.  When I travel and pack a suitcase, I typically roll my clothes.  Not only can you can fit more in a small space, you can see everything fairly easily.  I decided to try this with my drawers.
To get started I took everything out.  Look at all these t-shirts!
Yikes!  That's a lot of clothes!  Look at the transformation after doing some rolling.
It's  so much easier to see what I'm working with.  It will also help to eliminate weird creases in my clothes from awkward folds.  After about 20 minutes of standing around rolling my clothes, and listening to the Katy Perry Pandora channel, I had this…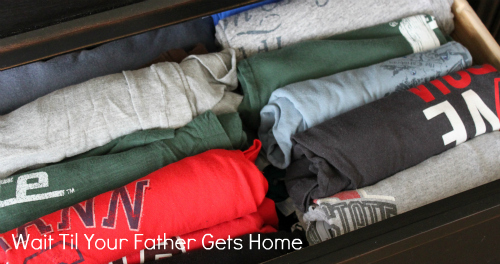 I don't think the pictures quite do it enough justice.  Let me tell you, switching from folding to rolling has made a world of difference.  I can see what clothes are available, no longer having to dig through the drawers to find something at the bottom, and there seems to be a lot more space as well.  I could see this working well for kids drawers too!
So, if your drawers are driving you nuts, try some rolling…it might help you out!
I'm linking up again today!  Check out some other great ideas at…